OPENING NIGHT 57th LONDON FILM FESTIVAL 2013 : Captain Phillips
Posted on October 10th, 2013 by
Media-Match
in
At the Movies
,
Film Festivals
Captain Phillips
Directed by Paul Greengrass
Starring Tom Hanks, Barkhad Abdi, Barkhad Abdirahman & Faysal Ahmed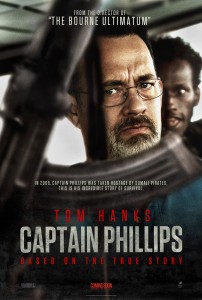 Opening the 57th BFI London Film Festival with a bang last night was this nail-biting hijack thriller from Paul Greengrass. Based on a true story about a Somali pirate attack on an American container ship in 2009, Tom Hanks stars as Captain Richard Phillips, who was taken hostage during the siege.
Phillips is an experienced seaman who sets out to safely navigate the MV Maersk Alabama around the Horn of Africa to Mombasa, Kenya. Aware of the recent spat of attempted and successful hijackings, Phillips is cautious but confident that he can get the ship to its destination without running afoul of trouble. Sadly he isn't banking on crossing paths with Muse (a terrific debut by Barkhad Abdi), a young fisherman turned pirate who lives in a small village on the Somali coast, under the savage tutelage of local warlords. Muse is determined to make his mark and return to the village triumphant, and his agression is as much about pride as it is poverty.
Set on a collision-course, the pirates attack the ship, and so begins an unbearably tense game of cat and mouse between the actual Captain and the self-appointed pirate captain. So the stage is set, and this is where the film gets really interesting, as the two radically different men battle for supremacy and survival. A multi-layered screenplay takes great care not to demonise the pirates, particularly Muse, also showing the impact Phillips' few acts of kindness have on them. As the action progresses, the clash between the crew and the invaders is given more depth and the stakes become even higher.
This is a stunningly mounted film, bathed in realism and featuring incredible cinematography from Barry Ackroyd. Greengrass – the master of this kind of muscular film-making – catapults you into the middle of the action from the moment the pirates invade the ship, and doesn't let up. The quieter moments resonate just as effectively, with the interplay between Phillips and Muse both believable and increasingly more desperate.
Hanks has never been better and it's great to see him back with a role and project worthy of his talents. This is a blockbuster but one that radiates humanity, and no one is better than playing the everyman surviving in extraordinary circumstances than Hanks. He is both wholly convincing and deeply moving, especially in the final stages of the film.
5/5
Matt Williams
---
Tags: 57th London Film Festival, Barkhad Abdi, Barkhad Abdirahman, Barry Ackroyd, Captain Phillips, Cinematography, Faysal Ahmed, Hijack, Paul Greengrass, Thriller, Tom Hanks