Brain-Storm-It: Format Explained: #1
Posted on November 15th, 2013 by
Guest
in
Advice
,
Screenplay

Image by dear miami on Flickr (Creative Commons License)
Welcome to the Brain-Storm-It blog. This blog is designed to help those who want to learn how to write a movie but moreover write a better movie. It will take you through this process in a "paint-by-numbers" approach as well as address specific questions so we can brain storm them.
Installment #12: Format Explained: #1
Last installment I showed you how to design your page and where to place the margins for the format indicators. Now, I'll discuss why those margins are so important.
We'll first begin with the FLY PAGE or the COPYRIGHT PAGE. It's also called the TITLE PAGE. Next to the COVER SHEET & BINDING, (more on them in the next installment) the fly page represents the first impression regarding your knowledge of format. If your fly page is wrong you will immediately call negative attention to your skills as a screenwriter so it's important to get it right.
Your title should not be in all caps, normal capitalization. Sometimes underlines are acceptable but your script is not a book. Use the same Courier 12 font and do not use bold or italic.
Your COPYRIGHT information is the key indicator that you have full ownership of the screenplay. Nobody can copy your script intellectually or mechanically without your permission.

The copyright information is made up of three lines and placed on the lower left hand side of the fly page an inch in from that side of the page. It finishes an inch up from the bottom.
The CONTACT information is on the opposite side of the page and is an inch in from the right hand side of the page and finishes an inch up from the bottom. This information should contain your name, address and phone along with an email address. If you are represented then only your rep's contact information should be listed. This is how they should look.
Copyright (c) 2013 by:
Garret C. Maynard
All Rights Reserved
Garret C. Maynard
123 Vine Street
Hollywood, CA 90210
203.345.6167
garret@thegarypaulagency.com
The next page begins your script and should not be numbered. Your title should be placed half way down the page and centered. Scripts are documents of time as well as image and dialogue so we place the title half way down page one to allow for the time it takes for credits to roll. DO NOT write a title sequence or inter-cut TITLE CARDS in your spec script.
The FADE IN is on the left hand margin and is caped. It is a stand in optical like the CUT TO and does not literally mean "fade in" but is an indicator of the start of your content. Double spaced under that is your SLUG LINE or SCENE HEADING. Every scene gets a slug line, no widows or orphans; i,e, never leave a slug on a page without its description.
There are three parts to your slug line. First is an INT. for interior or EXT. for exterior Next and in caps is a one or two word description for the location. The location indicator is the most misunderstood aspect of the slug line because many new writers use it to communicate information. The slug line and it's location indicator are not to be used to communicate content. It is used only for the production personnel and reader as a simple indicator of place. To indicate the location use the description. This means that you will repeat the location in the description but with more detail.
Third part of the slug line is the time of day indicator: DAY or NIGHT. There are only two times used in a slug line, it's day or night. If you want to be more specific in communicating time of day use description.
Double spaced under the slug line there is sometimes a SUPER. Super means superimposition and is used for text over picture to indicate time and place. For example: SUPER: Hollywood, California: 2013. Super is caped but the text is not caped.
Next installment I will continue to explain the importance in the placement of format indicators and margins as well as describe proper use of a script cover and how to properly bind a script.
********************************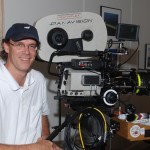 Garret C. Maynard is an educator, Emmy nominated cinematographer, literary agent and has been involved in movie writing and movie making for over twenty years.
If you have questions about this installment or others, please email Garret at: garret@thegarypaulagency.com. All questions can be answered privately and/or be incorporated into future writings.
---
Tags: Screenplay, screenwriting, Shooting Script, Spec Script, Studio Script